The most professional event management team in Ibiza with attention to every detail
Corporate clients we have worked with
The most experienced corporate event management team in Ibiza
EVERYTHING YOU NEED TO START PLANNING YOUR EVENT IN IBIZA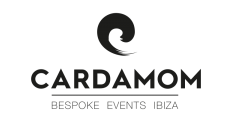 What Our Clients Are Saying
Cardamom Events bring something completely new and different to the table. They have the creativity, people network and execution skills to make an event very extraordinary and beautiful at the same time. Cardamom help you create your vision of your idea but more importantly bring own ideas to the table to make the concept even stronger. They are extremely professional, but also very humble and flexible at the same time. They not only come up with great ideas, they also have the capability of making them all happen. We felt very comfortable working with Cardamom during the whole process in order to have stress-free event with high demands at a very exotic location. They have created life long memories for our friends and families.
Clear and quick communication! Cardamom Events are hugely efficient – it never took longer than 24 hours for our emails to be answered in detail (and usually within a couple of hours). The food was also exquisite, extremely well presented and the service was first class. A Team of expert event planners with a proven track record of delivering high quality events who are also good fun to work with. They can be relied upon entirely.
When we first met Cardamom, they were so professional, competent and friendly that we saw no reason to go anywhere else. If I ever have to organise any other events in Ibiza, there is no question that I'd go back to Cardamom in a heartbeat.
The Cardamom team completely took away the stress of planning our wedding abroad, which was invaluable to us! I knew that I could trust them to keep me updated with all the important decisions, as and when was necessary, but I never felt bombarded or overwhelmed by them. They took the pressure off me, so that I could focus on other things like family and friends which was amazing and for this I will be forever thankful. Cardamom have solid experience and a list of fantastic suppliers/contacts that I would never had known about if it weren't for them. On the actual day of the event they worked so hard to make our dream a reality and instead of us worrying about timings etc… Cardamom took that worry all upon themselves and allowed my husband and I, to truly enjoy the most memorable day of our lives with our friends and family. Every single one of our guests said it was the best wedding they had ever been to and we happen to agree with them! I thoroughly enjoyed using Cardamom Events so much so, that I would consider my wedding planners good friends now and would hope that we stay in touch until they plan our next event 🙂
Cardamom Events is an Ibiza based event planning company founded by industry experts who specialise in creating innovative, sophisticated and highly personalised events with exceptional flair.
Built from a family business, Cardamom has transformed itself over the past 16 years into an international team of creative professionals who have developed a rich knowledge and understanding of Ibiza and Formentera and creating events there.
With a background in hospitality, your whole Cardamom experience from start to finish will result in an effortless production, curated with love for the island and attention to detail. Fulfilling your dream of the perfect event, whether it be a private or corporate affair, is what makes the Cardamom Team tick. Cutting edge concepts, a luxury feel and high levels of professionalism, coupled with relationships with the ultimate creative partners available on the island, result in extraordinary and unforgettable events. Add to this local knowledge and a vast in-house capability and you have one of the most premier event planning companies Ibiza has to offer.