Cardamom recommends…
It's September. For many people in Ibiza that means time to finally start to ease off the throttle of summer madness – plus the vacation crowd attracted to September often seek a slightly more luxurious and relaxing trip to the island. Why? Well, the weather gets slightly less scorching yet the days are still long and warm, the sea is now at perfect dipping temperature, and with slightly fewer tourists, the overall island energy (and traffic!) is much more pleasurable.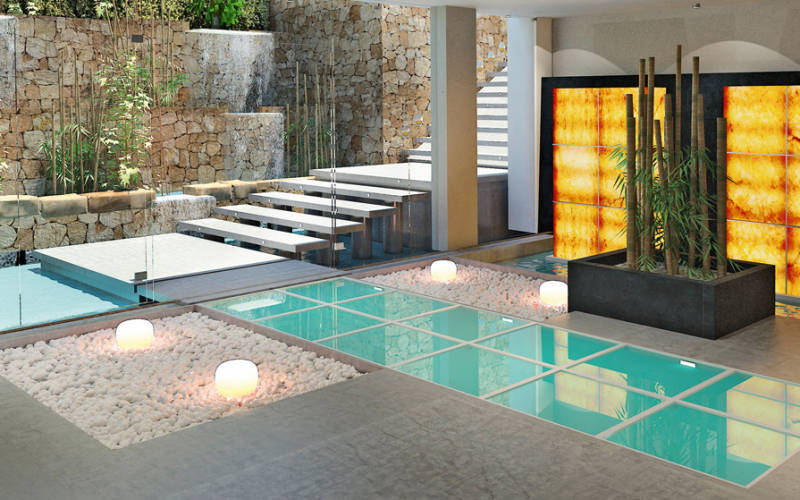 Our September recommendation therefore comes in the form of the 5 star Aguas de Ibiza Revival Spa. At 40€ to access for non hotel guests (which includes use of the pools and steam rooms), and with bolt on Clarins treatments and restaurant options such as a set three course lunch, there is arguably no better way to unwind in Ibiza. The Santa Eulalia spa was renovated last winter and now hosts some beautiful spaces to unwind and you leave feeling like you've received a true 5 star experience.
We visited the spa a couple of weeks ago and the experience was simply magical. Opting for the three course lunch which included a salad starter, chicken main and fruity desert we then entered the spa and did the rounds of the steam rooms and jet pool – to ease up our knotty shoulders until we received Clarins hot stone massages – which were incredible. The staff were polite, professional and calming – as was the entire experience (which came in at around 200€). Just what we needed!
Aguas is also a fantastic venue to host your Cardamom event (think rooftop birthday drinks with marina views, a wedding in a luxurious courtyard or hosting a dinner in one of the many fine dining restaurants at Aguas), plus the bedrooms and suites are divine (group bookings made through Cardamom receive a 10% discount). Go on, treat yourself! For more information, contact info@cardamomevents.com today.