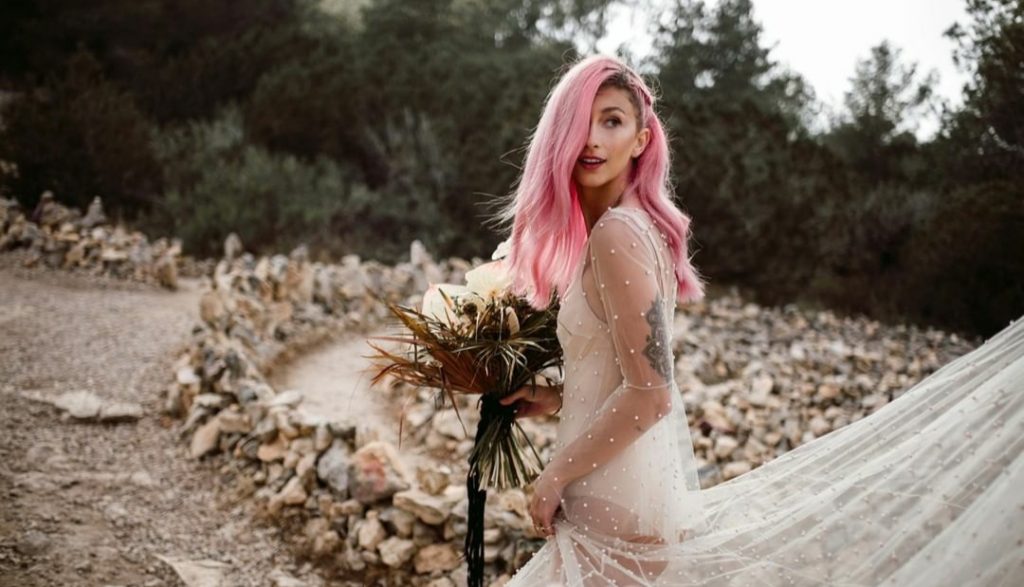 Every year, at Cardamom Events Ibiza, we look forward to seeing all of the new wedding trends! From the newest style of dress, to the latest wedding cake designs. Each year there's a new flavour and feel to on-trend nuptials; but there is one style that will never ever go off trend in Ibiza – Boho Chic!
Boho and Ibiza go hand in hand. Bohemian style encapsulates the island's hippie roots and hedonistic spirit and the ethereal beauty of its landscape. 
We caught up with one of our Ibiza Hair and Makeup artists, Katy Gill, to find out her tips for Boho Bridal hair and make up for your Ibiza Wedding. Ibiza resident Katy is a Bridal specialist and these are her favourite hairstyles for the ultimate Boho Ibiza Bride:
CASCADING WAVES
Sometimes less is more, and the stunning simplicity of tousled 'messy' waves in a middle parting finished with a flower crown is the epitome of Boho Bridal hair. An alternative accessory that also finishes this look perfectly is a head chain down the parting, either beaded or metallic with some sort of drop adornment in the middle of the forehead gives that real seasoned traveler vibe… a nod to the Indian Bridal style giving that feeling of bohemian, carefree wanderlust that the hippies brought to the island after following the trail back from India all those years ago. For something that looks so natural and carefree, it is also incredibly chic and elegant; just perfect for an Ibiza Bride. 
HALF DOWN AND HALF BRAIDED
To achieve the same tousled tresses and vibe whilst looking a bit more formal, braiding the top half of the hair is ideal. Braids are so boho! Especially in a crown on the top of the head. This creates a half up do with those same stunning waves left cascading, just with a slightly more polished finish. And with the hair completely off the face leaves you that little bit cooler in the gorgeous Ibiza sunshine. 

FISHTAIL BRAID
So elegant, but different, and very boho! Build up volume or even weave a few extensions into it for the ultimate full bodied, romantic vibe. One of the benefits to a fishtail braid is that it keeps you cooler in the heat than having your hair fully down whilst still giving the illusion of wearing your hair down. You can also weave in a hair vine, or flowers throughout the braid; Boho Ibiza Bride perfection!

BRIDAL BRAID HALO
For the Bride that wants to keep cool in the Ibiza sun and show off her neck and decollage whilst still embodying that bohemian chic look, we love a tousled halo braid fully up do. Katy loves to create a long braid that wraps around the head like a halo. Angelic, practical, romantic and absolutely stunning.  
We recommend booking Katy for a Bridal hair trial. She will work to create your ideal bridal hair with both style and practicality in mind, so that you can achieve your perfect hairstyle to wear with confidence on your wedding day without a single hair out of place.
As we know, boho-chic is a style influenced by both hippie and bohemian ideals; which is why many Ibiza Brides are inspired by this style. It is so intrinsic to both the history and ethos of the magical white isle. To tie in with the free-flowing waves and whimsical wonderfulness of all those braids, Katy's ethos is that Boho-chic Bridal make up needs to feel elegant and effortless, but fun and free. That said, you are still a bride, which means that feeling chic and polished are equally essential. 
Here's Katy's tips on how to marry all of these elements together for the ultimate in Boho Bridal make up when you marry your dearly beloved at your Ibiza Wedding.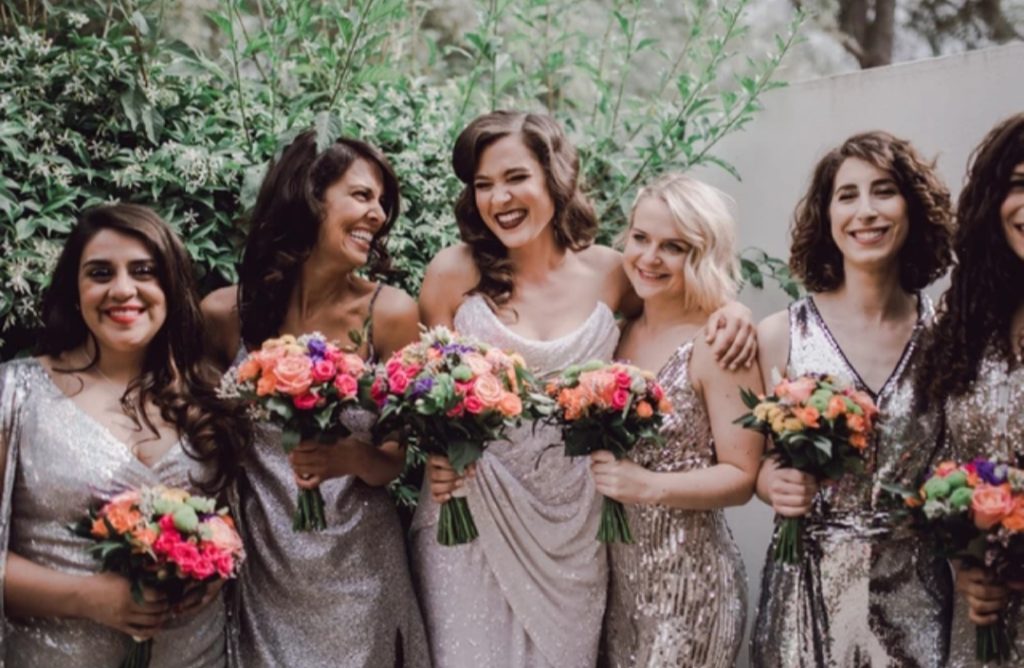 OUT OF THIS WORLD
Bohemian beauty is ethereal, so an otherworldly glow is absolutely vital to achieve that nymph-in-nature feel and enhance your beauty to glow in the sunshine and stunning scenery surrounding you on the magical island on your special day. Katy  works with her Bride's natural skin tone and colouring to pick the warmth of tone to highlight and shimmer to achieve a beautiful boho radiance. 


AT ONE WITH NATURE
The very essence of boho is natural beauty. Your makeup needs to look as natural as possible, whilst enhancing your features and highlighting your unique beauty. Think 'I woke up like this' meets flawless and polished. A nude lip is a boho bridal makeup essential, in either mat or gloss, it gives a perfect finish whilst still looking natural. Think Kate Moss and Sienna Miller effortless chic… both island regulars, of course!
GOLDEN GODDESS
Whether you would prefer a 'barely there' shimmer on the eyes, and a highlighted pop or a full golden smokey eye… Boho Bridal Makeup is all about the gold lids. This ties in, not just the ethereal goddess feel, but is also a compliment to the hedonistic party vibe of the island. Perhaps you might even want to consider a touch of glitter for a festival vibe. Be sure to use biodegradable glitter for guilt free sparkle; particularly great for the afterparty!  

Katy says 'wedding hair & makeup is where I find my niche, I love the buzz of wedding day, and for me as an artist what drives me, is the confidence I give women when they look in the mirror, they look and feel a million dollars, and to be able to create that on a bride's wedding day is really special. I always feel so honoured to be my client's chosen artist and spend months working with them before the wedding, with skin care plans, makeup trial appointments, and sharing all my beauty advice in the run up to day so they know they are getting the very best care putting themselves in my hands for their big day.
Book your Bridal hair and make up trial with Ibiza Hair and Make up Artist Katy Gill for your Ibiza Wedding.