A Stunning Cliff Top Ceremony and Stylish Outdoor Reception
"We both want to say thank you so much to the Cardamom Events Team for making our wedding day so amazing! You guys did such a good job and we are so happy you were our wedding planners!" Chris and Lindsay Blackhall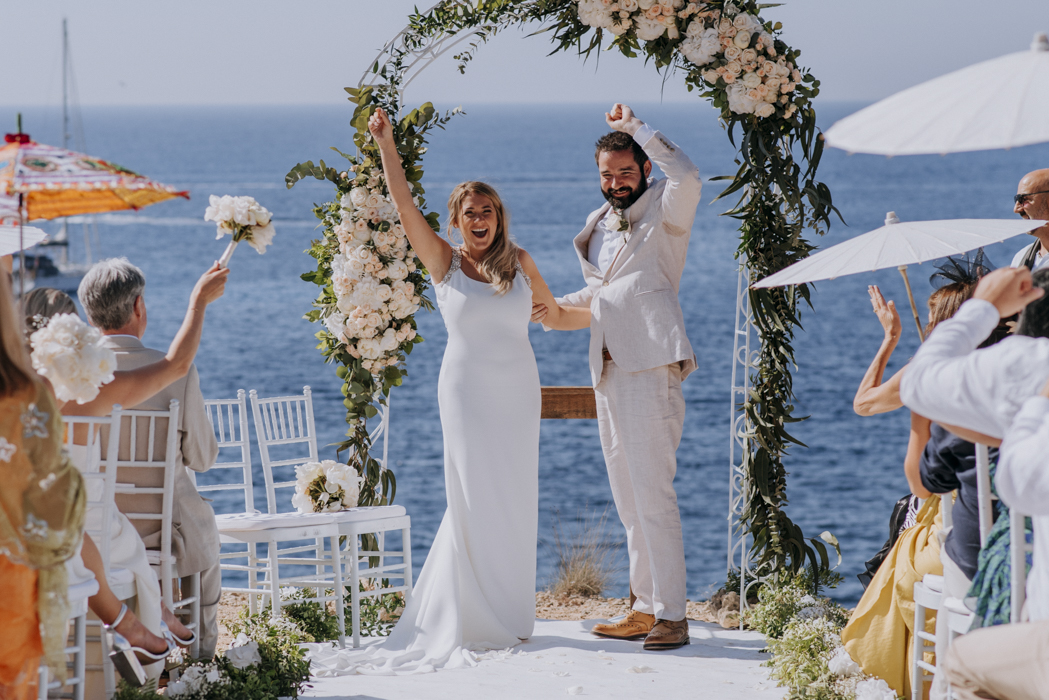 Back in June 2019, we were asked to design, create and deliver an unforgettable cliffside wedding ceremony, followed by an intimate villa reception for Chris and Lindsay.
Casa La Vista is located on top of some rugged cliffs with its own private beach. The guests were able to walk from the villa to the ceremony which was simple and accentuated by a beautiful floral arch from Flowers Ibiza.
Once all the guests had arrived, they were seated in the warm Ibiza sun before the exquisite bride walked the rustic aisle. The ceremony was conducted by officiator Melchior Arnold.
Following a poolside drinks reception at Casa La Vista with Nell Shakespeare providing some acoustic melodies, the guests were treated to a delicious feast from Crisp Catering.
After speeches and the cutting of a cake made of cheese, the party started and the group danced the night away under the stars to live music from The Topaz Movement and tunes from DJ Paul Reynolds.
"Cardamom Events are extremely organised. They covered so many bases and knew about many details that we didn't consider or think about. They have huge amounts of experience in the industry and knew exactly what they were doing every step of the way. For sure we couldn't have pulled this special day off without them!"